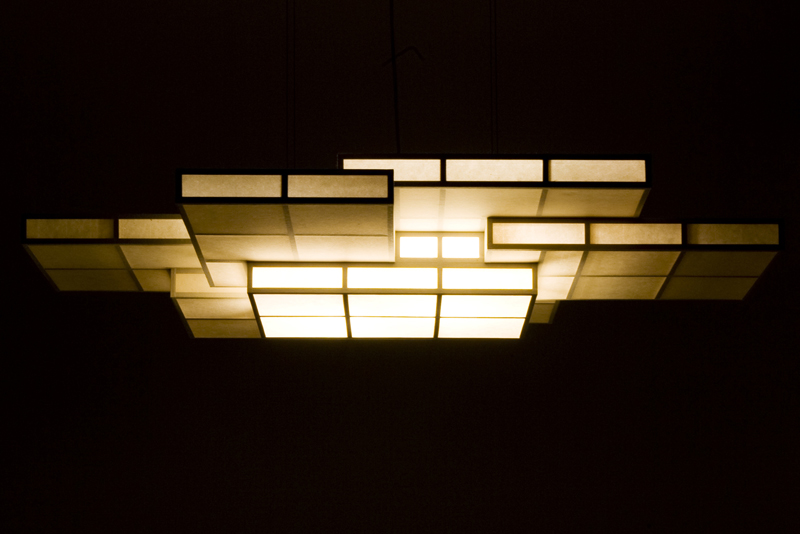 KASANE ANDON PENDANT LIGHT_L
PENDANT LIGHT L
ANDON, JAPAN TRADITIONAL CRAFT

Dimensions

W1177 D885 H200 mm

Materials

WOOD FRAME/JAPANESE PAPER/SUS H.L

Details

BULB:E26 100W×4/CODE:1400mm(Adjustable)
340,000yen(+tax)
A gentle layering of thin lampshades made of Japanese washi paper taking shape in an extended series of multiple straight lines gives an impression of endlessly and widely expanding space. The product realizes a luxuriousness and tranquility that existing Japanese-style lighting apparatus and chandeliers do not possess. When the light is turned off, it looks like piled wood blocks made of washi. Combining the beauty of unique Japanese materials and contemporary design, KASANE ANDON accentuates space with calm and beautiful light.
行灯を幾重にもふんわり重ねたような直線的で薄く広がるフォルムは、どこまでも広がっていくようなのびやかな印象を与えます。従来の和風照明にはない華やかさ、西洋のシャンデリアにはない穏やかな趣を実現させました。繊細な木組、土佐の手漉き和紙を通した灯りは障子の向こう側を想わせ、灯りを消した時には和紙の積み木のようにも見えます。日本特有の素材の美しさとコンテンポラリーなデザインが融合し、空間のアクセントとなる穏やかで美しい光を放ちます。
ANDON
Each andon (traditionally a candle-lit lamp with paper shade) is carefully crafted with washi using Sashimono woodworking techniques. Andons were originally a lantern for Zen priests in the Muromachi Era (1336-1573) and later became a popular form of lighting among ordinary people.
行灯
行灯は指物の技術と手透きの和紙を使って一つ一つ丁寧に作られます。「あんどん」というのは江戸弁。正しくは「あんどう」といい中国の宋の読み方です。室町時代に禅僧が使っていた携帯用の照明器具が一般に広まったといわれています。江戸時代、夜中枕元に置いた行燈は有明行灯。名称すら美しい江戸のものは枠も細くすっきりと洗練されたデザインで、現在のスタイルにもつながっています。