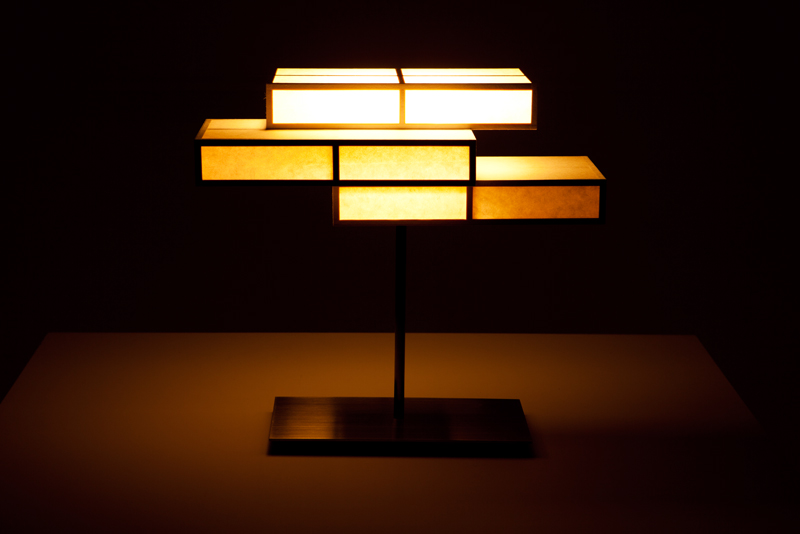 KASANE ANDON TABLE STAND
TABLE STAND
ANDON, JAPAN TRADITIONAK CRAFT

Dimensions

W445 D226 H418

Materials

WOOD FRAME / JAPANESE PAPER / STAINLESS H.L.

Details

BULB LED E17 (SHARP / DL-JA42L・100V 5.2W×2)
150,000yen(+tax)
A layering of white boxes illuminates at the gentle touch of a switch, filling the space with a sense of airy, soft light. The subtle expression created by layering creates a scene as if moonlight casts its shadows on a cluster of clouds. Soft light gives of sense of relaxation and indulging in the moment. Melding the traditional Edo-era lantern-making technique of pasting washi paper onto a fine wood frame and contemporary design, the KASANE ANDON TABLE STAND casts a calming and beautiful light to accentuate space.
白い箱が重なったようにみえる照明は、電気をつけるとふわっとやわらかい光にあふれます。重なり合うことから出来る表情は、月明かりが雲の群れに陰影を与えているかのよう。やさしい光は、時をゆっくりと丁寧に過ごす穏やかな感覚を与えます。 繊細な木組みに和紙を張り込む江戸行灯の技術と、コンテンポラリーなデザインが融合し、空間のアクセントとなる美しい光を放ちます。
ANDON
Each andon (traditionally a candle-lit lamp with paper shade) is carefully crafted with washi using Sashimono woodworking techniques. Andons were originally a lantern for Zen priests in the Muromachi Era (1336-1573) and later became a popular form of lighting among ordinary people.
行灯
行灯は指物の技術と手透きの和紙を使って一つ一つ丁寧に作られます。「あんどん」というのは江戸弁。正しくは「あんどう」といい中国の宋の読み方です。室町時代に禅僧が使っていた携帯用の照明器具が一般に広まったといわれています。江戸時代、夜中枕元に置いた行燈は有明行灯。名称すら美しい江戸のものは枠も細くすっきりと洗練されたデザインで、現在のスタイルにもつながっています。